Most artists highlight milestones directly connected to their streaming performance. And it makes sense – sharing those stats with a community reflects gratitude and an obvious, shared interest. The same holds true for fan comments.
You reached 100k plays, that's definitely a reason to reach out to your community. You reached 1mil plays, time to think of a giveaway, maybe a surprise release or video. There are many ways and reasons to shed light on these rather obvious data events.
Streaming services make it easy to spread the word concerning stats. It's a great piece of info to share. Listeners feel connected to a journey, and ideally even part of a success story.
There are more overlooked content pieces though. You see, there's a profound individuality to user-generated content – in its many forms. Especially if listeners put time and effort into creating these moments of affection, or connection. So, what we're talking about in this article, are user comments. They matter.
The solution
We rolled out a feature that lets artists share their user's YouTube comments via Instagram Stories. In a non-obtrusive, highly customize-able solution.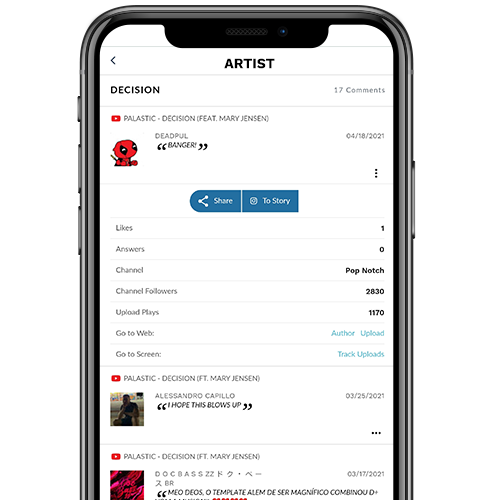 From our point of view, this offers a multitude of advantages:
Artists are now able to choose from an entirely new pool of content. While sharing comments via screenshots, sometimes even copy-paste might have worked in the past, our easy comment-share function streamlines this highlighting process. It makes it easy and intuitive. It turns user-comments into an asset that is easily accessible and shareable – simply tap "Share to Story" on the comment you'd like to share.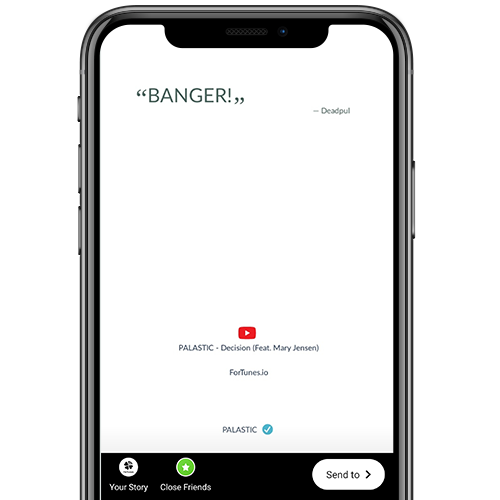 Make it part of your social media routine to crowdsource this content. The new Comment Hub is accessible in the ForTunes app
The reasons
Now, there are various reasons why highlighting user comments makes so much sense. First of all, you show appreciation towards early adopters, and power-users. Especially if you're an act that is just starting to make some noise. Every form of outside appreciation is content gold.
Giving your early commenters a spot in the collective attention is a definite sign of giving back, of pro-actively reaching out to them. Secondly, it puts the option of direct-contact via commenting on the map of all your other listeners.
Some people feel the urge to reach out, or celebrate something, but they can't think of an ideal outlet in a given moment. Highlighting YouTube-Comments brings this form of fan-expression into focus – sometimes you have to show people how easy something is, to motivate them to follow through.
Thirdly, it demonstrates your avid interest in and connection to your listener base. It indicates that you keep track of all activity happening around your music. It shows that even minor instances of attention are seen and appreciated.
Highlighting YouTube comments is a form of leveling out with a fanbase, of going eye-to-eye. It's a little like conversation at a merchstand. It's personal.
The customization
Sharing a YouTube comment via our sharing tool is only the first step. We made sure you still had a bunch of space for customization, for bringing your artistic brand into the posting.
So make sure you customize your posting with gifs that make sense, that reflect your personal emotion. You shared the comment, that was a definite, personal statement. Now go one step further and add your own form of expression.
You can also write something like a short answer or statement. Whatever you do, make sure to customize this posting, so you get the most this fun and convenient form of fanbase interaction.
Download our app for free and start sharing your milestones and YouTube comments.
3
join the family and show some love for this!
Comments
comments