We had the chance to catch up with Dorian Perron, the co-founder of Groover. The Platform helps independent musicians to pitch their music to relevant blogs, magazines, playlist curators, radio stations and other influencers.
ForTunes users can now enjoy a 10% discount. Sign up on Groover and use the code FORTUNESGROOV10
Tell us about your early days: When did you get started with Groover and what was the inspiration that kicked off your endeavor?
I met with the other Groover co-founders Romain, Jonas and Rafaël in September 2017 in California. Romain and Jonas had released music with their bands and experienced the immense struggle of trying to promote your music as an artist, and as a music blog owner for 4 years with Indeflagration I was receiving over 100 emails per day of artists who wanted me to listen to their music and feature it on the website. The goal was already very simple: we wanted to help musicians get their music heard! We called more than 200 musicians and music pros for a month and put more clarity on the situation. 
To explain it simply: 60,000+ new songs are released every day on Spotify. It has never been easier to produce and release music, and consequently it has become extremely hard to stand out from the crowd even when you produce really cool music. So they more than ever need to go through influencers to have a shot at getting their music listened to, and those influencers have also diversified a lot in the recent years. Music blogs, magazines, playlisters, record labels are overwhelmed by hundreds of requests every day and cannot possibly listen to them all, lots of them had dumped their email inboxes. We realized it was probably THE biggest issue in the music industry right now: how musicians can get in touch with relevant music pros, media outlets, influencers who wan have an impact on their career and help them get their music heard.
We had to find a way to make this connection again.

How does Groover work? How much does it cost?
Simple! Groover is a web platform on which musicians and their representatives can directly and simply send their track to a selection of blogs, radio stations, playlisters, record labels, music pros of their choice for 2 Grooviz by influencer (1 Grooviz = approx. €1). You are guaranteed that your music is going to be listened to and to get written feedback on it from the contacts you have chosen in a list of 1500+ currently active ones within 7 days… or you get Grooviz back to contact other influencers!
On their side, the influencers – renowned media outlets, radios, playlisters such as Electro Posé, Radio NEO, journalists at Rolling Stone, Tsugi Radio, niche blogs, indie record labels, engaging third party playlists – are free to decide whether they want to share your track or not, so they keep their complete editorial independence.
In 4 years, over 1.4 million  pieces of feedback were given to 100k+ musicians, with an answer rate around 90% and an approval rate of around 20%. This means that in average, if you send your track to 40 contacts, you're going to get 34 responses in 7 days, including 7 approvals (playlist adds, articles, social media shares, radio broadcasts, meeting proposals etc.), and get Grooviz back to contact 7 new contacts.
Are the influencers – reachable through Groover – limited to certain countries/areas or is the platform available worldwide? Which genres work best on Groover?
The Groover platform is definitely available worldwide! We started by building a strong community in France. Now more than 65% of the contacts available are located elsewhere, in Belgium, Canada, the UK, the US, Brazil, Italy, Germany, Australia… Those are the most dynamic territories on Groover right now 🙂
Regarding the genres, the platform has always been extremely eclectic with strongholds on indie pop/rock, electronic music, rap/hip hop but also niches such as ambient/neoclassical music, world music, indie folk etc.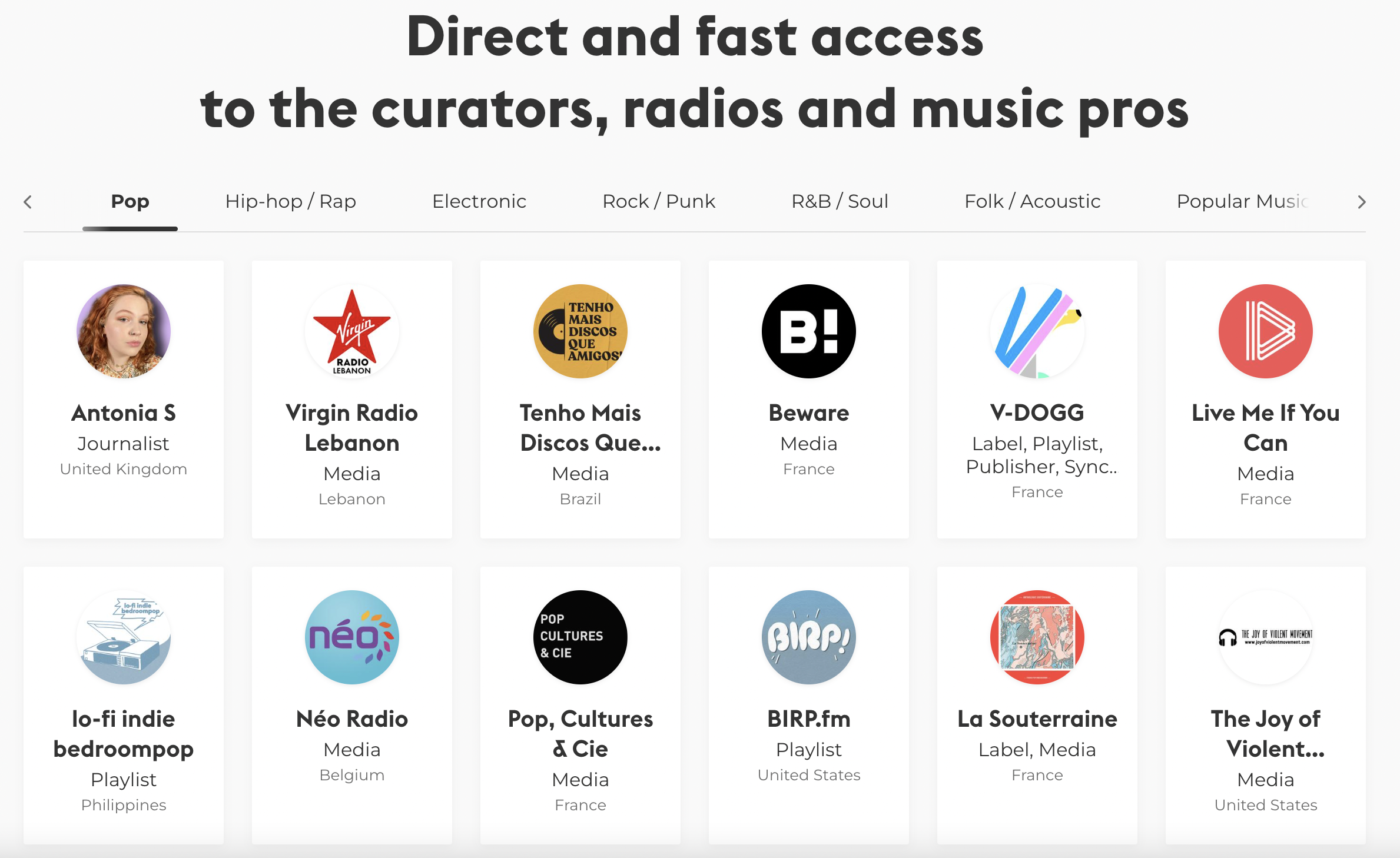 For artists planning their release strategies: When is the right time to kick off a Groover campaign?
We've actually written an article about this recently! To sum it up, here a few tips:
You can send your track whenever you want, before a release even, especially if you're aiming at potential partners such as record labels, publishers, managers… Or if you want some detailed feedback and advice on your project!

If you have a fixed release date, we don't advise you to send your track too early before it (not more than a week or two), unless you're seeking feedback before! Lots of artists send their music on release day or 1-2-3 weeks after, it always proves very efficient!

The promotion periods are much longer than before. We've seen tremendous success on Groover from artists who sent a track that had been released 6 months or even a year before

Don't contact Spotify playlisters before it's available on Spotify, they might forget to share your music afterwards 😉
Can you share some DOs and DON'Ts that artists should keep in mind when they use Groover to get in touch with influencers?
A few pieces of advice to have a successful campaign on Groover:
Fill in your profile properly with social media links, a short bio, a profile pic… It always makes a better impression

Explain what you're currently looking for in the short pitch of your track –

more info here

Take your time to choose who you're going to contact, to optimize your results. You can use the filters – Genres, Types, Countries – for that once you've filled in the info on your track

Try to contact at least 20 influencers, more if you can! As we explain

in this detailed article

, we've analyzed that the most successful campaigns on Groover were the ones who were sent to over 25-30 contacts. This is how you can really get a sense of the value brought by the platform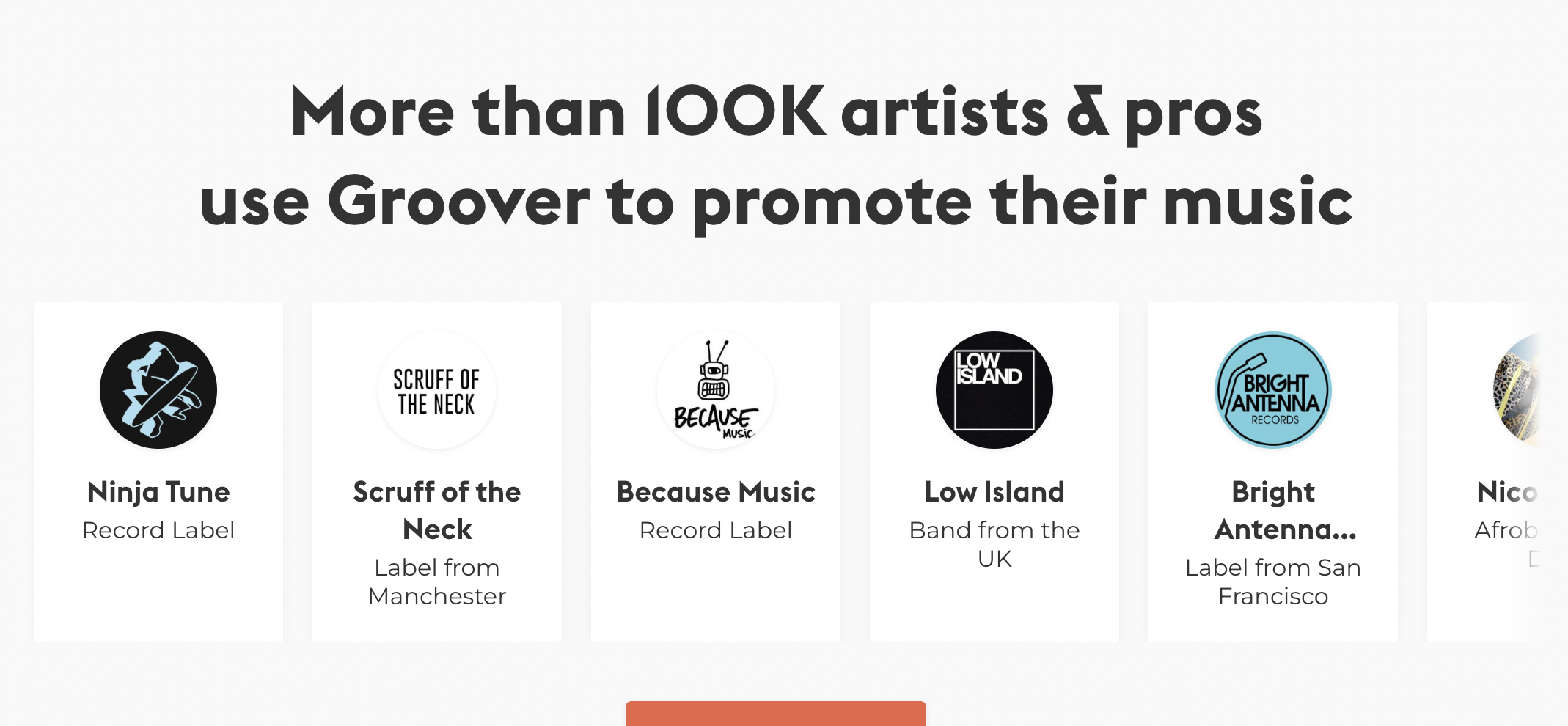 Which pointers should the info text contain to deliver the best first impressions with your influencers?
You can go straight to the point. You can tell a bit more about your song, its context – is it a debut single for an upcoming album for instance? -, your artistic universe and influences if relevant. 
You should definitely tell what you're looking for. Are you looking for a record label? For some visibility for your release? The music pros want to have this information at hand when they're going to listen to your music 🙂 
Also, try to adapt your pitch depending on who you're contacting. You can use the "Personal Messages" option to send some of the contacts that you're targeting a special note! More info in this detailed article about it.
What's next for Groover?
Right now, we're dedicated to growing the community of blogs, radios, record labels and playlists in other countries than France with a few targets such as the UK, Germany, Belgium, Canada, Brazil, Australia, Italy for instance.
We're also constantly working on improving the platform with new features to better serve the artists and music pros!
Try Groover now! ForTunes users get a 10% discount. Sign up on Groover and use the code FORTUNESGROOV10 [more explanations on how to apply the special discount here]
FOLLOW GROOVER:
Facebook
Instagram
Twitter
Spotify
2
join the family and show some love for this!
Comments
comments