Welcome to  ForTunes! We are a team of music and tech enthusiasts on a mission to put insights at the fingertips of artists, producers and their teams … anybody who releases music online or works with creators who do.
This post gives you a quick round up of the ForTunes feed and other key functions of our app.
Make sure to start a risk-free 10-day Trial to experience the whole app. Start Trial.
Need help getting started? Here's a quick guide to the ForTunes onboarding.
Feed
The main screen of ForTunes is the FEED, it is accessible through the tab bar. Wherever you are within the app, it's only one tap away. The feed chronologically displays events, such as playlist placements, YouTube uploads, milestones, blog posts about your music, weekly social media updates and more. Tap the little arrow to receive additional insights and to navigate to related screens. 
You are able to share feed events directly into your Instagram Story or other social media channels. Simply tap "Share to Story" and you're good to go!
Make sure to enable notifications! Promise, we won't spam you but let you know when something happens in your feed – so you don't miss out on useful information.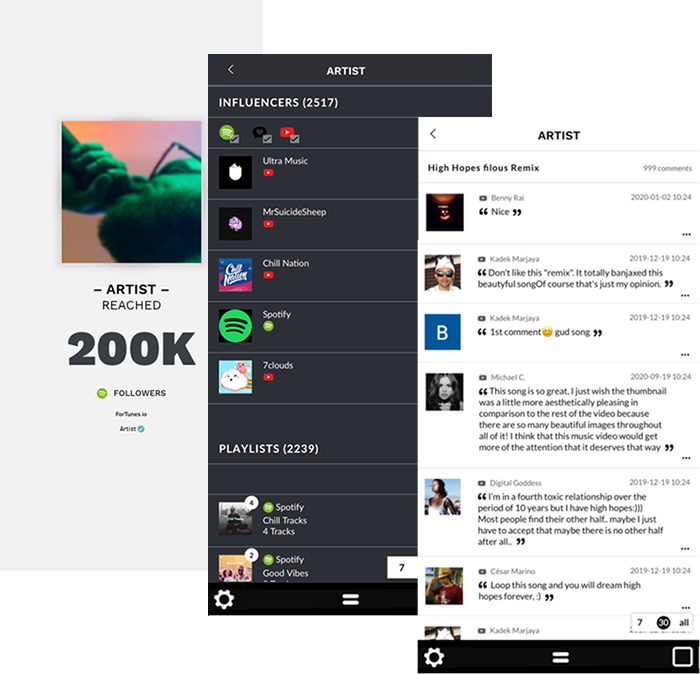 The Dashboard is the quickest and most comfortable way to get a an overview on your key metrics and how they are developing. It's accessible through the tab bar.
The FOLLOWERS screen gives you insights about your following. After you've created a report, we update your followers every day. So, after the initial first week, you can switch to 7 days (bottom right) and learn how your channels develop over time.
Connect your Instagram, Facebook & YouTube profiles to receive geographical insights as well as impressions and reach. Learn where and how your audience is developing.
Navigate to the PLAYLISTS screen through the Menu. Tap the little square icon or simply swipe left. On the Playlists screen you can see all playlists which currently contain one or more of your tracks. The playlists are automatically sorted by Followers. Tap a playlist entry to learn how the position of your track within the playlist develops.
We know how important playlists are for you, so that's why we wanted to build the most powerful mobile tool to keep you informed about your musics' streaming-performance. Dig deep into its functions.
The TRACKS screen lists your tracks including official or even unofficial remixes. We want to give you the broadest, possible picture here. Tracks are sorted by plays.
Tap on a track to navigate to track-related screens. Jump to the Track Uploads screen to see all the different uploads, made by influencers and fans, that we found for this particular track (uploads include live or lyric videos but also uploads made by your label or premiere partners). We're constantly searching YouTube for your User Generated Content.
Jump to Track Playlists to learn how one specific track is doing in the playlist sphere – and how these playlists are developing.
Tap on Track Plays to get insights on how YouTube and Soundcloud plays are developing. We're working on integrating more streaming services.
The Track Comments screen streamlines all your YouTube comments – including user generated content – in one single feed. It's an enormously useful feature – accessible through the TRACKS screen.
On the UPLOAD screen, you can see uploads from influencers, fans and their own channels across ALL of their tracks.
Uploads are sorted by plays and you can jump directly to the upload or the channel which uploaded the track.
By toggling between the different platforms you're able to determine which platform contains the most User Generated Content and which influencers are driving plays. This can help you immensely when building future release strategies.
On the Influencers screen, ForTunes enables you to discover and compare Spotify playlist owners, Hype Machine blogs and YouTube channels. The Influencer screen lists all of these channels – which have interacted with your music before – sorted by followers.
By toggling between different time modes, you can easily detect which of your supporters network is growing the fastest.
The PLAYS screen shows you plays from YouTube and Soundcloud – including all uploads made by fans and influencers. Switch between time modes to learn how your plays are developing.
Make sure to verify your report by requesting verification through the Menu (tap the little square icon). Only verified users are able to invite their Team and create a public profile to showcase their achievements to the world.
Have fun digging through your musics' data. If you have any questions, we're only an email away and happy to help: Get in touch!
9
join the family and show some love for this!
Comments
comments