Audiences nowadays are more dispersed than ever, so knowing your fanbase is vital for many areas of your career planning. Streaming services allow for fast, unmediated and especially broad music consumption. While artists always depended on regional trends and hypes to open up certain regions, we now live in a time where digital, distributive technology directly shapes and promotes multinational careers.
But how can this potential be fully utilized? Well, it starts by actually KNOWING where the buzz is located. And not weeks, or months after things start flaring up. A key to building strong, multinational careers is acting fast, engaging in audiences while they are interested. Promotion campaigns are most effective when customers are activated within a frame of relevance.
We at ForTunes wanted to give our creators the advantage of connecting their streaming data to relevant country stats – and therefore included regional information on audiences from sources like Facebook, YouTube and Instagram.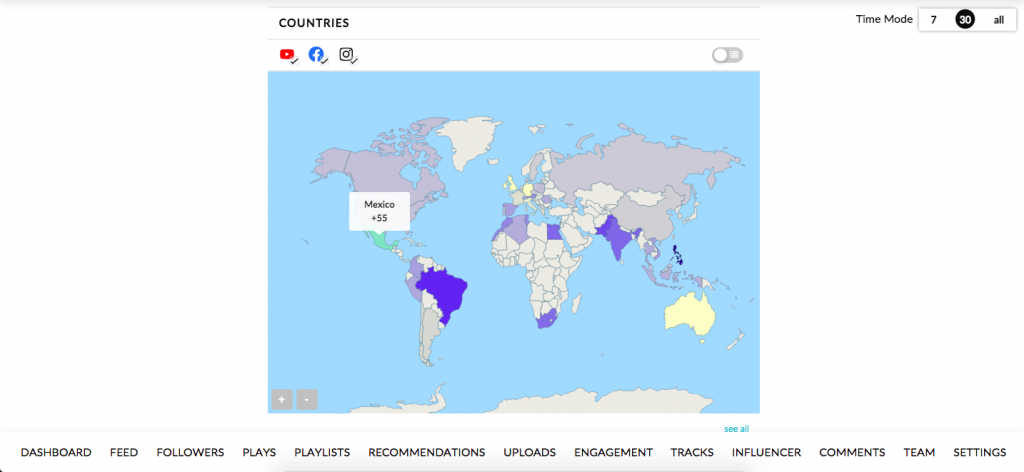 This is why we think country stats are vital to any career…
Smart digital campaigning
If you want the most bang for your advertising buck, you'd better make sure your budgets are spent on audiences and regions that matter. This means customers that have the highest potential of enjoying your music.
A good indicator for market relevancy is the fact that early adopters are already enjoying a product. In this case listening to your music. If you have a small, solid base of listeners from Brazil, chances are high that others might follow.
You can't necessarily explain why something works in a given region. You CAN react and adapt to these circumstances, though. Elevate your next digital release campaign by targeting it to regions that are prone to love your sound.

Find and use momentum
Missing out on a listening trend can be a real show-stopper. One, huge mistake of many promising DIY artists is not having the means (be it resource wise or information wise) to act upon momentum building in a given situation.
Find and use any kind of regional momentum that is building up. This can be in form of media measures, like blog features, or play-listing efforts. Country stats will shed light on where to act.
Now it's time to go out and foster these unexpected relationships.

Collect booking arguments
Sure, just because you have a couple of hundred, or thousand, plays in Japan, you probably won't fly over asap to book the odd club or so. What you're building here is a vision, though
If you want to work with booking professionals, a potential vision is just as much part of the sales-pitch as hard, metric facts. Obviously, you don't want to go full Disney in terms of imagining a big picture, international live scheme.
Still – while building a team, every little positive metric matters.
And being able to point out very real booking potential, be it within national or even close international territories, can act a major motivator. If you already have a booker, country stats will help navigate potential showcases.

Smart playlist pitching
Identifying audiences in trending countries helps you decide upon good playlist pitching matchups.
If you are thinking about working with external professionals, maybe agencies, showcase your stats and the reason why you think your music should be pitched to a certain region. And to certain editors present in those regions.
The more arguments you collect, the better.

Emotional groundwork
Being a DIY artist can be emotionally draining at times. Especially if your local scene or media landscape doesn't seem to appreciate your sound, and musical ideas.
Discovering appreciative audiences around the globe can be hugely motivating. Sometimes even to a point where a marginal group of listeners can intensely motivate and inspire further artistic growth.
Much in line with the saying – for every pot there's a lid – chances are high that you will find an audience, but maybe not right next door, or even within the country you reside in. Embracing and observing country stats will help outlive any dry-spell, it will boost motivation and open networks that might have seemed unimaginable.

Log in to your ForTunes account, on iOS, Android or Browser, make sure you have Facebook and Instagram connected and have fun with the enhanced Followers Screen.
3
join the family and show some love for this!
Comments
comments