Johann "Hans" Hölzl aka Falco would have celebrated his 60th birthday on February 19 – supposedly with a big party in his favourite Viennese club U4.
Right on time, a new Falco euphoria is spreading across Austria, including a musical and the obligatory Best-of collection. Without a doubt, he still is Austria's best known pop music export.
Falco died in 1998, years before streaming platforms like Spotify or YouTube began their rigorous reign across the music market. Nevertheless, we took Falco to our analyzer and looked into his digital performance. Here's what we found:
A hit is a hit is a hit …
Falco's number one success in 1985 with "Rock Me Amadeus" in the US and UK will never be forgotten. His biggest hit back in the days is also his most successful song in the digital world. "Rock Me Amadeus" got streamed more than 57,000,000 times on Spotify, YouTube and Soundcloud.
While the official video on his YouTube channel generated over 19,000,000 streams, hundreds of fan uploads combined (including lyric and live videos, covers, remixes & edits) reached about the same number of streams. I especially enjoy this 8bit do-over of Falco's iconic hit.
Power to the people
Falco is a great example of how important User Generated Content (UGC) is in the digital world. His impressive 200,000,000 streams on YouTube, Spotify & Soundcloud are fueled by 1,300 fan uploads which generated more than 50% of his overall streams.
To put 200M streams in perspective: It's twice the amount of streams reached by Austria's latest export hits Bilderbuch, Wanda & Yung Hurn combined.
Falco still got it
His fans are very faithful. 153,000 followers on Facebook, Spotify and YouTube speak for themselves. They are also busy liking his content: Including fan uploads his music got faved 500,000 times on Soundcloud & YouTube – a definite sign that his legacy lives on.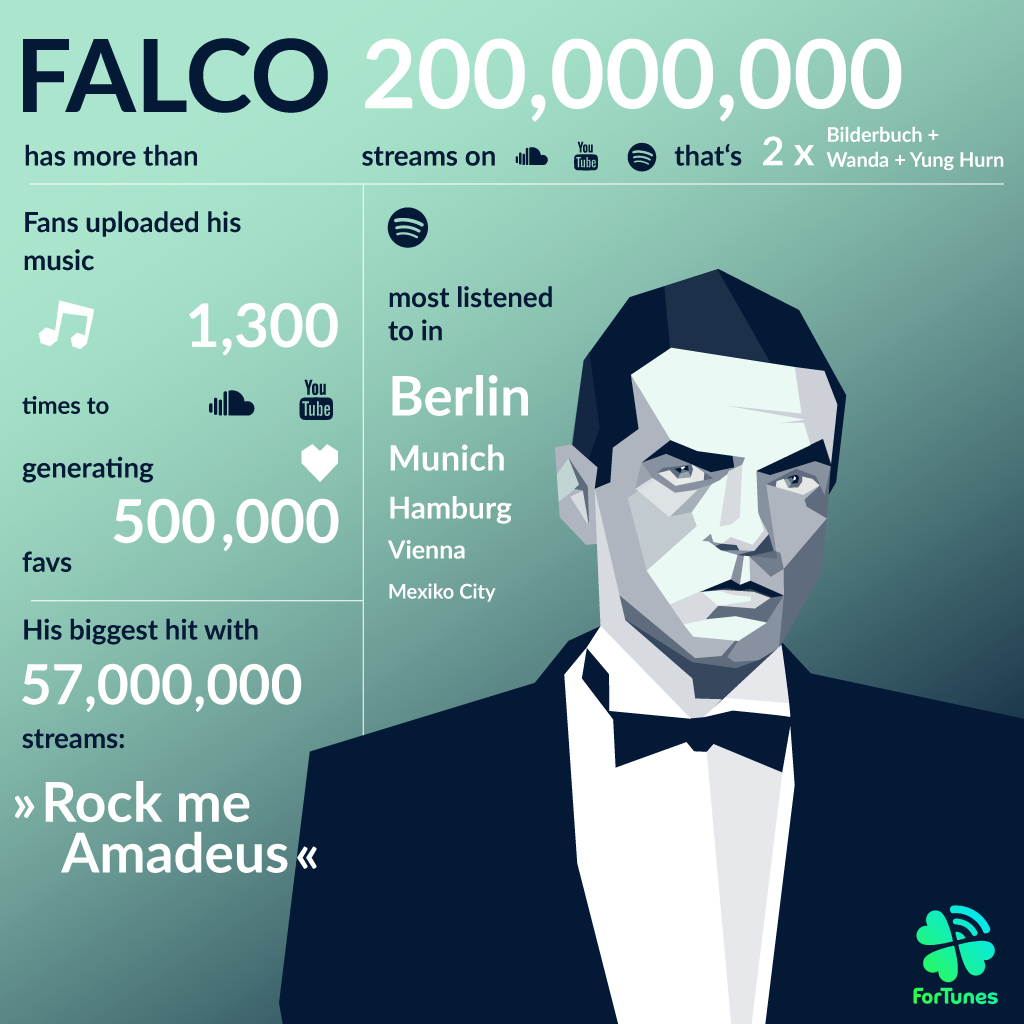 I hope you enjoyed us digging through the digital Falco universe. Leave a comment to let us know which artist we should approach next or head to ForTunes.io to try our analyzer yourself.
Have fun reading on about social media and DIY musicianship in our ForTunes blog.
Photo: Curt Themessl
6
join the family and show some love for this!
Comments
comments