Michael Matics is not only an aspiring DJ and producer, he also created the Chord Progression Generator app: A highly useful tool for producers that let's you find and play chords and melodies of any kind and later incorporate them into your music projects.
We met Michael to chat about the beginning and the future of the Chord Progression Generator, his take on mobile music production and his personal music project.
You can win 3×1 lifetime memberships of the Chord Progression Generator app right here.

How did you come up with the idea of the Chord Progression Generator? What's your background?
When I was 16 I learned about FL Studio and fell in love with producing music. After a while, I realized that you have to acquire so many different skills to come out with decent music. And if you suck at only one of them, your songs won't be great.
One of these skills is music composition/theory. I love it, but most of the producers don't. I even saw some of the best producers using a "trial and error" method to come up with basic chord progressions.
That's why I thought about how I could make it easier for them and created the Chord Progression Generator app.


Tell us about the app: What are the key features of the product? What's to come?
The workflow of using Chord Progression Generator is simple. You open the app and tap on the "shuffle button". The app will generate a chord progression with a rhythm, based on the settings you selected.
If you like it, you can export it as a midi file and import it into any DAW.
If you don't, you just repeat the process until you found one, you're happy with.
Many users request a way to edit a chord progression after it was generated. That's something that you can expect in the next updates. Also, I'm planning on implementing a melody option. I have a prototype already, but it needs some work to be ready for release.

For which platforms and devices is it available?
At the moment it's only available for iOS, but I'm planning to release an Android version as well.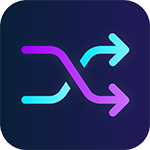 Who should be using the app? Experienced producers only or beginners as well?
The app was originally made for beginners and producers who struggle with music theory. Anyhow, it's also very helpful for experienced producers and musicians who are experiencing writer's block or looking for inspiration.

You built an app for iPhone and iPad. What role does mobility play in the current sphere of music creation? Can you predict any future trends?
In my opinion, current music apps aren't efficient enough to replace computer software in the complete music production process. I see music apps as helper tools that you use together with your computer (or on the way).
That's because mobile devices offer a way to interact with music in a way you couldn't do on a computer, because of their touchscreen and motion sensors. Also, you can create something on the go, when you're waiting for the bus for example.
Anyhow, mobile apps might be a professional alternative to computer software in some years. But only if they become smart enough and offer a workflow that's as efficient as using mouse and keyboard on a computer.

"To be successful artists need to be entrepreneurs these days." Would you agree? How does your practice of producing and releasing music relate to build and publish an app?
I would say yes. I see many similarities, especially psychological.
If you want to be successful as an artist, there is no instant gratification. You need to learn and practice for years until you get to a point where your music sounds decent. And this can be really frustrating. But you need to go through all of this to become successful.
As an entrepreneur, it's exactly the same.
What's also common is that artists and entrepreneurs both tend to procrastinate because of their fear of failure. But in reality, failure is not the opposite of success, it's just part of it. If you fail at something it's great because you can learn something new.
The real opposite of success is doing nothing.
In my opinion, an artist should know at least the basics of Marketing and Branding, even if he has a team member for it.

Besides Chord Generator, you are an aspiring artist and producer yourself. Can you tell us a little bit, about your music and your work as Michael Matics?
As I said before, it's very common for artists to procrastinate. I had exactly this problem until the beginning of 2019. I started so many new projects and never finished a single one. That's why I didn't release any music for over two years. Now I focus on finishing music.
On July 5th, I finally released my new song "Down".
With "Down" and my upcoming songs, I want to combine future house and pop, because that's what's reflecting my emotions and mood the best at the moment.
Follow Michael Matics and check out his tunes:
Chord Progression Generator
Spotify
SoundCloud
YouTube
Instagram
Facebook
1
one already already liked this, but everybody needs a friend, so give us a <3
Comments
comments