When the Viennese audio-startup Mikme launched their Indiegogo campaign in 2015 we were enthusiastic to back it. And rightfully so. The Mikme still is our favorite wireless microphone for all sorts of audio recording.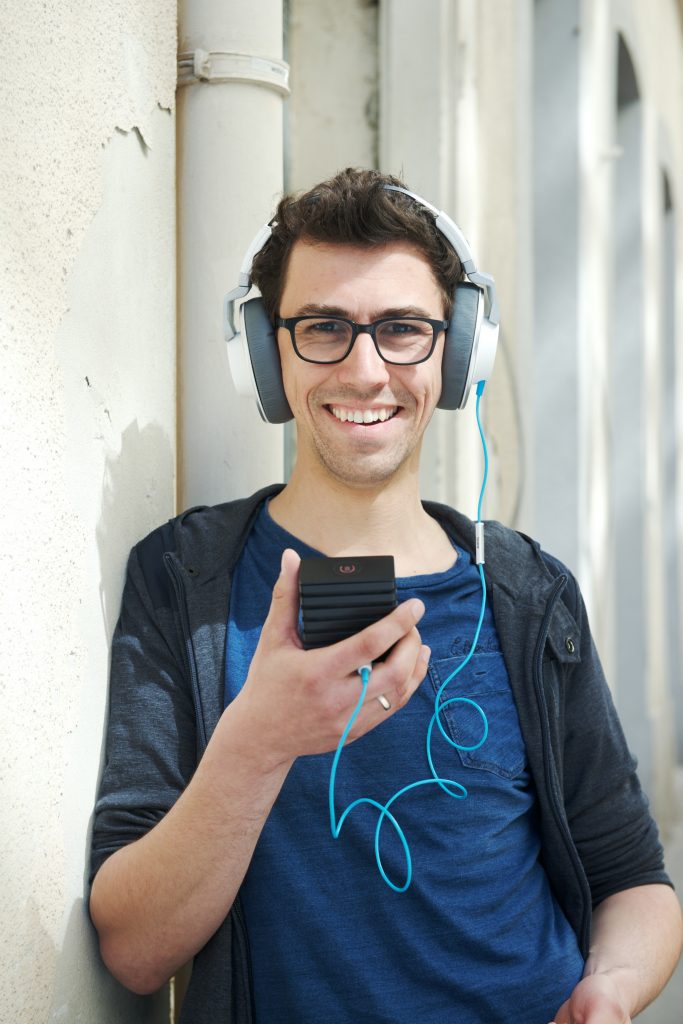 Philipp Sonnleitner, Mikme founder & CEO, sat down with us to talk about the beginning and the future of the Mikme as well as the role of mobility in the music sphere.
And he even brought a MIKME with him that we're giving away, right here.

You quit your job to found a start-up: MIKME. What's the vision, the big idea behind this company?
Basically Mikme is all about capturing, editing and sharing your audio/video content in some minutes. Every creator produces tons of content and today it's crucial to post and share small content pieces with good audio quality right from your phone. And Mikme is here to help every musician, podcaster, videomaker or journalist with that.
Tell us more about the MIKME: What are the key features of the microphone and the app? What's to come?
The main feature of Mikme is that the Microphone can capture studiograde audio quality and wirelessly transmit it to your phone into the Mikme App. You don't need any receiver on your phone, just the Mikme App. The app also allows you to record a video with your smartphone camera but sync the audio from the Mikme Microphone wirelessly and automatically. Thus you get a great video with great sound as the Mikme Microphone can pick up the sound close to the soundsource and you can freely move around with the smartphone while capturing the video.
There's a lot to come in the next months. One of the first features is an automatic gain which makes it easier to get started quickly without fiddeling around with the gain. We are also working on an Android version of the Mikme App.
The MIKME is a beautiful product. How important was the design of the microphone for you when you started developing it?
Design was crucial for us. First we looked into the use case as we wanted to make the recording process as easy as possible. Regarding the industrial design, Mikme is a modern interpretation of classic radio/broadcast microphones from the 40s and 50s.
Besides musicians, who will benefit from using a MIKME?
Basically everybody who needs to capture good quality audio. Videomaker, journalists and podcaster as well as musicians are our main customer groups so far. Over time we will spread into new customer groups with new hardware and software products.
What role does mobility play in the current sphere of music creation? Could you give us your prediction of future trends?
I am a kid of the 90s so I experienced the shift from big mixer and digital recorders towards computer based music making. I only used to make music with my computer and nothing else. When the iPhone was released it was obvious to me that mobile devices are the next logical step and that they will have a big role in music making in the future. A lot of kids only have smartphones, have no computer, don't know what a USB plus is nor that studio mics exist. They still make music, still want to be creative. The next generation will rely much more on mobile devices in any creative process. Thus we are focussing mainly on the mobile use case with Mikme.
Also musicians are not only making music with smartphones, even more important all their marketing efforts happen on mobile phones. They promote gigs, make social post from tours and so on. And as video is getting more and more important you need to have a high quality audio on your videos too. In that space Mikme can help a lot too.
Get more information about Mikme on their website or follow them on Facebook & Instagram!
0
be the first one to show some appreciation for this!
Comments
comments