Someone uploaded your music to a private channel. Someone reposted your music within an interesting network. Someone is into your sound. Time to act on this – fast.
Within ForTunes, you can find all of your uploads – made by influencers or fans – on the Upload screen. Simply open the Menu and select it. By default, all of your uploads are sorted by plays. You're able to jump directly to the upload or the channel that uploaded your track.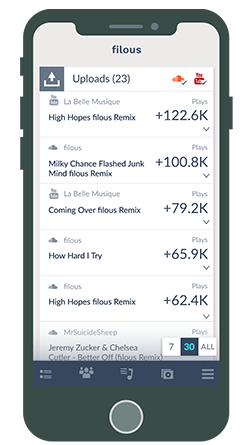 Here's why UGC matters:
Crowd-sourced exposure is among the most powerful elements of a release. From small, hobby channels on YouTube, to service-oriented playlists and channels, there's a huge variety of content forms out there. And each has its own goals and curative styles.
Keeping track of UGC content is vital when growing a solid audience. You're collecting musical ambassadors, so to speak, people that multiply your reach. On the long run, these relationships will help develop your artistic legitimacy. They will be an indicator for what's actually going on out there – the ultimate performance radar.
Find influencers first
Finding influencers BEFORE heading into a release can be an important cornerstone of your marketing mix.
If somebody has proven to dig your sound, you can try docking on to that with your next release. Try to build a connection, because we're talking about strong multiplication here.
Besides that, you might be able to snowball your way through re-posts, discovering a hot-bed of music loving individuals.
If you're planning a release and you're already searching for influencers, try tracking similar artist on ForTunes. Find out which channels are pushing their tracks and generating plays and reach for them.
Insights on your catalogue
There's quite a large chance that you'll stumble upon some surprises: An unlikely song is being hyped by an influencer, or your "single" is lying flat while a b-side is spreading like wild fire.
Finding out how the online sphere is interacting with your music offers a huge insight on the way your catalogue works.
Create a negotiating backbone
UGC can be hugely important when negotiating label-or publishing deals.
Pointing potential business partners in the direction of a self-perpetuating movement of your music can be a great advantage. Wether you're trying to draw a picture of how future releases can and will develop, or underline an obvious demand – even with a niche – UGC can help you out.
Tastemaker feedback
You can gain important feedback from these tastemakers, influencing future release strategies. Try to reach out to channel owners having uploaded your music. Go ahead and ask what they loved about the given release.
It's a vital echo for the creative flow. It will get you hyped, and it will show you where to dig deeper, what to expand. Also – the respect and appreciation you hand to a certain tastemaker will most definitely rub off on the handling of your next releases.
Territorial expansion
Discovering UGC can most definitely point you towards new, territorial trends. This is hugely important. You might come across individuals with close ties to regional media and/or booking connections, in places you never thought possible.
In this case – act upon this information. Try to find out how your music got there, try to reduce the blind spots in your upcoming release or live strategy.
If you need help or have ideas how we can improve, drop us an e-mail: hello@fortunes.io
3
join the family and show some love for this!
Comments
comments