ForTunes lets you access Instagram & Facebook insights by connnecting your social media profiles with your ForTunes account.
You can do so during onboarding – if you haven't don't worry, you can always add new channnels on the Settings Page.
Connect Facebook & Instagram via the Settings Page
To access the Settings Page, open the Menu (tap the square icon or swipe left) and tap SETTINGS and ACCOUNTS.
Simply tap the the icon on top that you'd like to change and press + to add or the dust bin icon to remove an account.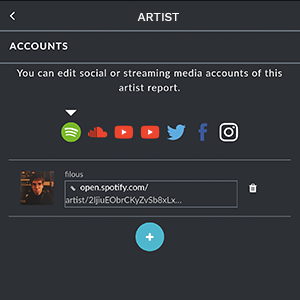 Tap the Facebook icon. Now tap CONNECT WITH FACEBOOK and log into your Facebook account.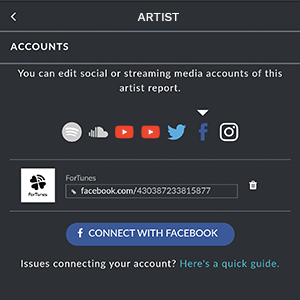 You need to have admin rights and your Instagram account has to be a Business Profile and connected to your Facebook page.
If you haven't already, here's a quick guide on how to set that up.

Make sure that you've selected the page or pages that you'd like to connect with ForTunes. We can only retrieve data if the box, next to the page is checked. If the profile that you want to connect doesn't show, here's a guide to troubleshoot the most common issues.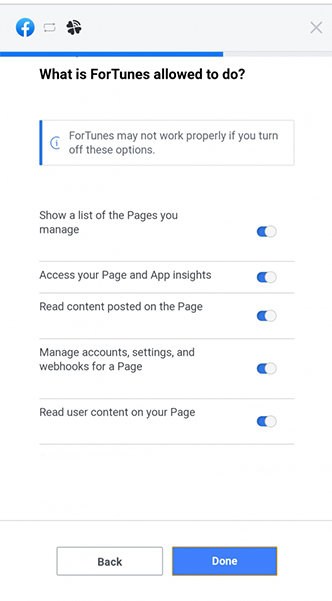 Make sure to grant us the necessary permissions. Don't worry, we will never post to Facebook/Instagram or do anything else than retrieve insights for your ForTunes artist profile only.
Now select the profile that you like to add to your report and press ADD.
To add an Instagram profile, tap the Instagram icon on top and press CONNECT WITH INSTAGRAM. Follow the instructions on the screen.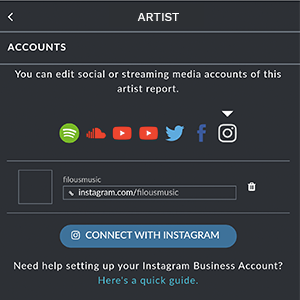 After you've connected your Instagram account to ForTunes, simply select your profile and press ADD.
Last step: Now we ask you to confirm your selections, tap the button and you're good to go.
If you have any questions please get in touch via support@fortunes.io. We're always happy to help.
3
join the family and show some love for this!
Comments
comments