St. Petersburg based Baikonur Recordings are releasing music from all over the world – with significant success on Beatport. We asked the Baikonur-team – avid ForTunes users – to share some insights with us.
Read the interview to learn how the electronic music scene in Russia is developing these days, get some tips on approaching A&Rs and much more. Dig this interesting in-depth interview with Baikonur Recordings as much as we do!

It seems that Baikonur Records does more than just releasing fresh music. Can you give us a quick heads up, what is Baikonur, how did it start, who's the team behind.
Baikonur Recordings was born in 2012 as a monthly podcast featuring interviews and guest mixes from famous artists such as Rodriguez Jr, Art Slave, Wehbba, Wade, Angelo Ferreri, Luca M, Fer BR, Maximiljan, Oscar L, Collective Machine and many others. Listen here!
After two years, we managed to build our own studio and started working on our music label.
We love dance music and interested in everything related to this culture. We launched the label because we were wondering how this market work. How music get to the online stores such as Beatport, iTunes & other?How tracks get to famous DJs before the official release date? What is the process between creating a track and an official release?
We basically can say that our label appeared out of our curiosity, we did not want to promote our own music or making money out of it. There are three people in our team, and this is our main job now. When we started, it was just a hobby for us, but now it has evolved into the craft of our whole life.

Talking about studio work and mastering: Are these service available for your artists? Do you and if how do you help your artists to set up their productions.
We have our own mastering studio in St. Petersburg. We work on analog equipment and make mastering for each of our label releases. We also work with various artists around the globe. Mastering is a magical process and sometimes a good mastering allows you to take the track to the next level. Sometimes we get tracks that sound not perfect but have good ideas. We always trying to help our artists to make their music sound as good as possible.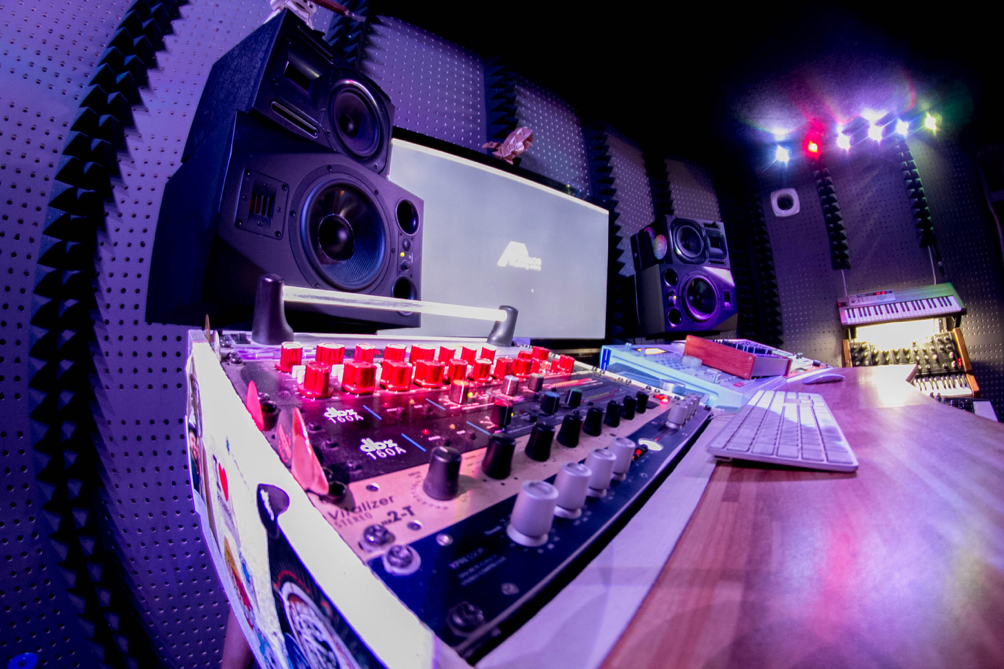 Talking also about promotion. We notice that artists have gained a lot of responsibility when promoting an upcoming release. Would you agree?
You're absolutely right! Activity from the artist is very important. We call this process "marketing from two fronts". Our manager provides special "marketing tips" for all our artists within which we tell producers about how to properly promote their releases. Our management team also does their best to promote the music of our artists: interaction with blogs, launching advertising campaigns on social networks, sending promos to famous DJs & radio stations, but still marketing efforts from the artist side are very important.
By joining efforts, we double our success to chances. Therefore, we interact with our artists and coordinate all actions in order to achieve maximum results together.
Also we're not filtering artists by follower's quantity. No. Sometimes a release from a new fresh artist can get more success than a release from an artist with a big name.
Fresh artists are interested in promoting their music, they have fire in their hearts! It is very important for promotion & success.

What do you want to see an artist do (and not do), before an upcoming release on your label?
The most important thing is not to be in hurry, its useless to buzz with posts like "my release will be out soon" without any links to pre-order on Beatport or pre-safe on Spotify. People get tired of information on social networks, you should not annoy your audience. It's important to start promotion when you already have links to the main services where your fans and friends can download/stream to your track.
You need to keep calm & keep your track private. Release preparation takes time. Usually, it takes 2-3 months. We need time for mastering, send out the promo and interact with all DJs who supported it, prepare a release pack for sending to stores and pitching press releases to blogs, magazines, tastemakers, trendsetters and premiere channels.
The participation of the artist is very important too. Many of our artists recording 'presentation videos', videos from their performances, sending promos to big DJs from their circle.
All of this activity will help to move the release forward.

What are the most important factors in keeping a music release campaign smooth and effective?
That's a super difficult question. Sometimes even having a good budget and support from major blogs, magazines, and radio – wouldn't make the release successful.
Music is art – the "magic" factor is very important here. First of all, music should have something more than high-quality mastering and graphic design. It must have that magic and soul in it.
Individuality is very important. Every week we get 5-10 demos with copy/pasted 'Fisher' sound. We immediately reject it. You can not become successful by repeating someone's style and sound.
Russia has a fast-growing electronic music scene. How would you describe the market? What has changed over the past years?
For many people, creativity is a way of "escaping" from the reality. Cultural revolutions occur in countries where there is a problems in society, finances or the government itself. Artists begin to create music, paintings or poems to get away from the problems of real life.
As you may know – its not the best times in Russia. Government is blocking the Internet and not long ago we were forced to use VPN to access Beatport, our distribution and other services that are very important for the workflow of the label.

You are having great success on Beatport. Streaming vs. Downloads, what's your take on that. What do you think will the future bring in that regards. 
Yes, we love Beatport, this service provides incredible opportunities for digging new music. You can find an interesting track, then look across the label where it was released and find a dozen new interesting artists and works. This process is endless. Beatport Staff Picks, Hype Charts, and curators charts help dig deeper, Beatport team does an amazing job.
And of course, streaming is the future. That's why Beatport starting streaming directly into DJ applications, controllers and decks. This is an incredible opportunity! DJs no longer need to download music, just subscribe and play all the tracks from a huge Beatport catalog, this will change the world forever. No more pirated services and illegal grabbing mp3s from YouTube.
All the music in the world is now available at one click! It's just awesome!

You are releasing music from all over the world. How do you find new talent? How does your A&Ring work? Can artists send you demos?
Our team listening and responding to ALL demos! This is pretty hard because we get between 150-200 emails per week, but we answer EVERY email! This is our etiquette, we show respect to all producers who interested in our label.
The main problem of new producers is that they are sending the demos "blindly" hundred of labels at the same time. It's a big mistake.
It is important to spend time and research the style of the label. Make a small tour across the label socials and carefully read the demo submission rules. Most of the label having demo submission rules on their Facebook or SoundCloud profiles. Usually, you will have to send your demos using private SoundCloud links to a special 'A&R' email. Send the demo exclusively, try to find out the name of the A&R manager ( 'Artists and Repertoire' manager) and put the label name to your SoundCloud private playlist. This will help you to make your submission more personalized and draw the attention of the A&R manager.
Do not send your tracks to private messages on Instagram DM's or Facebook messengers, do you seriously think that the label can listen to your track through iPhone and sign it? ?
It's funny…
Each label is a big team and often different people work with different departments. Don't spam, be focused.
Another common problem is broken links. Some producers sharing wrong SC links . They are simply copying the link from the address bar of the browser, instead of clicking the "share" button and copy the "private link". Approximately 5-10% of demo emails have this problem.

What's next for Baikonur. Can you give us a sneak peek of future releases or upcoming highlight
We are planning to go back and restart our radio show, inviting famous artists, interviewing them about their production tips, gigs, management, and promotion tactics. Also, we want to share upcoming releases & exclusive tracks from our guests with our listeners and we want to build a famous brand and maybe start our own parties in the future.
We also host competitions for DJs. Right now we are hosting competition in collaboration with Mix Cloud, where each participant can record a mix and get valuable prizes. Read more here.

Big thanks to the Fortunes team for your work and great App. You are doing amazing job! We use ForTunes from the first days of launch and are happy to see how it's grow. Thank you for your excellent service. Fortunes is a "mission control center" of our label.

Get in touch with BAIKONUR RECORDINGS:
SoundCloud
Beatport
Instagram
Facebook
YouTube


3
join the family and show some love for this!
Comments
comments