We had the chance to speak with artist and producer Sarah Kofranek aka Skofi. The Vienna based multi-instrumentalist who successfully blends Indie, RnB and Jazz vibes into outstanding musical pieces should definitely be on your radar. Read along:
How would you describe your music, to someone who never heard it before?
I think first I'd have to explain that I listen to nearly every music genre. Over the last few years I got into Old/New School HipHop/RnB, Jazz, Neo/Soul, Trap, Indie, 80s Pop as well as a lot of electronic music. I think while listening to Skofi tracks you can hear those influences in different forms. For example, my drum samples sound similar to most HipHop songs, when I use a guitar I mostly use typical indie effects. That means a lot of reverb, little distortion and chorus while playing standard jazz chords. All in all the feeling of my tracks are laid back and chill, in combination with my warmth and not so present voice.
How do you feel about the evolution of digital music streaming services?
I actually think about this subject a lot and I came to the conclusion that digital streaming services got their cons and pros. In my case the opportunity to release my music independently and without much bureaucratic work is a big benefit. When I started producing and thinking about releasing my music I got quite scared. I thought  I'd have to find a label or at least a manager to do that for me. Luckily I had some friends with experience in releasing music independently.
On the other hand it's pretty sad how newcomers – who produce on the same professional level as famous artists – are drowning in this endless sea of online artists. Even if some of them make it through and get more attention and streams, it won't be possible to make a living out of that. A quick reminder, for 1 stream the artist earns about $0,004891.
What was the best music video experience you ever had?
I've only done one music video so far so I guess I don't have much experience. but the drone shot in Skyfarmer and my video to "Trois" has been quite fun.
Do you have some insights on running a smooth live show?
I still get nervous before a show, no matter if I'm performing in front of 5 or 500 people. In the last few minutes before going out on stage I always remind myself why I do this and why I love doing it. After having those thoughts it doesn't depend on the mood I've been in that day. For me that feeling is so important. I want people to notice that this is what I really care about whilst performing. When I go out on stage with this mindset there's nothing stopping me from running a smooth show.
When you start a new track – what are the first steps?
This depends on my mood and also what kind of music is inspiring me at the moment. It can change day by day. There are times where I focus only on drum beats and add the other instruments later. Sometimes I'm jamming on my guitar and catch new riffs or chord sequences I enjoy. Sometimes I just play with different synth sounds or samples and build a base out of that.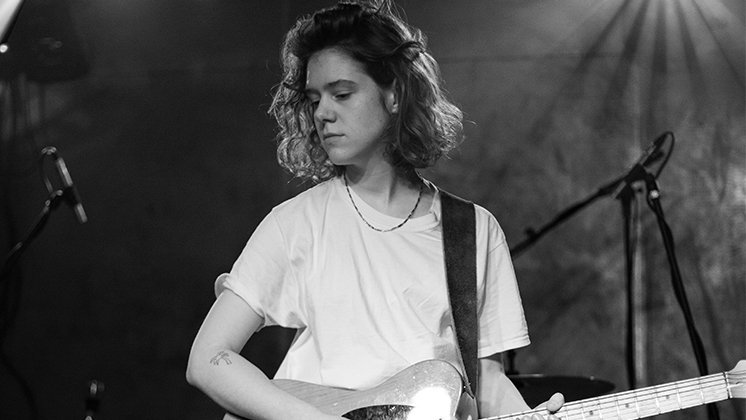 Name 3 artist social media feeds that Skofi digs and tell us why.
Even though those artists couldn't be more different in musical ways, I think their social media appearance have a lot in common. Alice Phoebe Lou is probably my biggest inspiration when it comes to writing songs. Ever since I saw her perform in Berlin on the streets in summer 2013 (I was 14 back then), Lava La Rue influenced me the most. When it comes to female rap, style and expression, Okayalex, a friend of mine from Germany, is someone who I appreciate and look up to very much. They all got such a natural and inspiring way of communicating to their fans. Never obtrusive but yet present and conspicuous.
What are the opportunities and dangers of using Instagram as a musician?
I think there shouldn't be a big difference in using Instagram as a private person or as an artist. The biggest opportunities for sure are easily promoting your work, directly connecting with other artists and keeping your friends/family/fans updated with new information. Dangers are getting distracted from your own work, comparing yourself to other artists, spending too much time watching other profiles and getting caught up in some stupid meme pages.
What's up next for Skofi in 2020?
Depending on the current circumstances, my plans for 2020 got a bit messy and unforeseeable. I finished my debut mixtape in the last couple of days. Now it depends on my friend who's mixing and mastering the Skofi songs so I can finally set a release date. At the beginning of the year I planned on having a private release party as well as a release concert for everyone, but now I'm not quite sure how and when I'll be able to do that. The first single "Drown" has been released on the 8th of march, the next single "Your Turn" ft. Romc will come out in the next few weeks and the whole mixtape will be out before summer for sure.
FOLLOW SKOFI:
Instagram
Spotify
Soundcloud
Facebook
We love to get insights from aspiring artists, producers & bands. Visit our interviews section for more interesting Q&As with ForTunes users.
2
join the family and show some love for this!
Comments
comments