We had the chance to catch up with multiplatinum dj & producer Sam Feldt to talk about his company Fangage, their next steps, the future of community building and much more. Read along.
We partnered with Fanpage to provide ForTunes users with a 10% discount. Claim it right here.
When did you get started with FANGAGE and what was the inspiration that kicked off your endeavor?
Back in 2016, I realized I had over a million followers on social media, but I was only reaching 5% of them because of the algorithms. I decided to build a platform that allows artists to own their audience and fan data, and always reach 100% of their fans. With that vision in mind, Fangage was born. Now, years later – it has grown into the ultimate fan engagement & monetization platform for creators.
How does FANGAGE work? How much does it cost?
Artists can create their own, fully-branded, website on Fangage.com, and add exclusive content to it. Their fans can sign up to their website to unlock the content, sharing their data with the artist. This way, the artist builds up a database of fans that can be easily accessed at any time. The artist can use Fangage to send targeted SMS and email campaigns to activate fans,. A win-win, if you ask me. On top of that, Fangage offers follow-to-unlock gates, monetisation features, merchandise integrations and much much more. All for less than what you normally pay in hosting fees for a website. 

Can you provide some tips for artists getting started with FANGAGE?
Definitely. The success of your Fangage website depends on the content that you upload, and how well you promote your site. If you post interesting content for your fans, and promote it on your existing channels like social media (or link in bio), your fans will start to sign up.
Do you think digital fan engagement – the way it developed during the pandemic – is here to stay although concerts are coming back?
Yes, I think so! A concert is a great, irreplaceable experience. However it is limited to the people that can attend physically. An artist has fans from all across the world and I think having a platform like Fangage where all your content and fans come together 24/7 is critical in the new music world.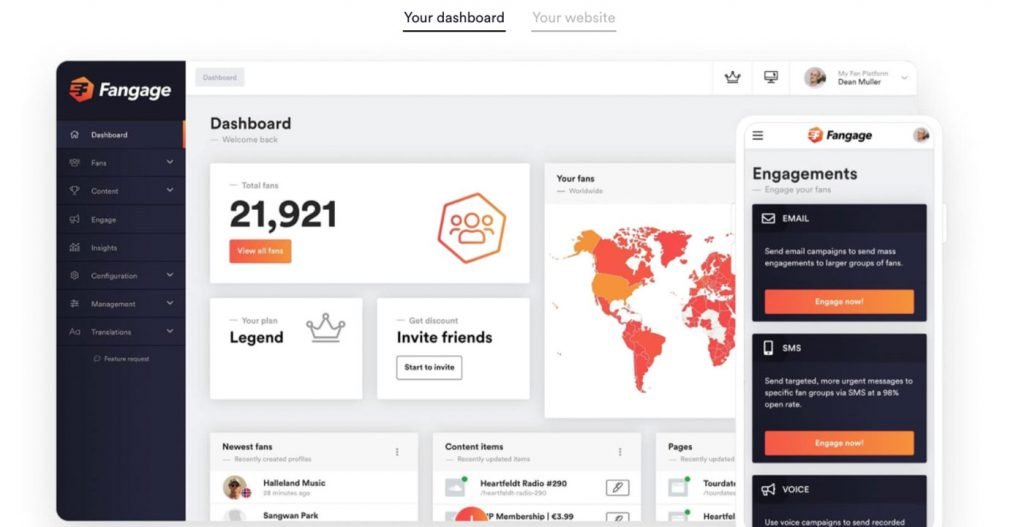 Finally, the music industry started to recognize creators as a substantial part of the business. What's your take on the creator economy? Where is it going?
I think creators are getting sick of being ripped off by the platforms they are currently on, and will take back control in the near future. Fangage helps with that, since the creator owns their own platform – and all associated data. This way, the creator or artist can build an independent brand and career – not limited by social media algorithms and restrictions.
What's next for FANGAGE?
Right now, we are doing a complete overhaul of our on-boarding process to make starting with Fangage even easier. We are also dramatically improving our engagement features, and are making it easier to start making money through paid content & memberships. We're releasing new features every week, so sign up now to not miss out!
FOLLOW Fangage:
Website
Instagram
Facebook
2
join the family and show some love for this!
Comments
comments